Arabic Reading Made Easy From Zero to Hero in No Time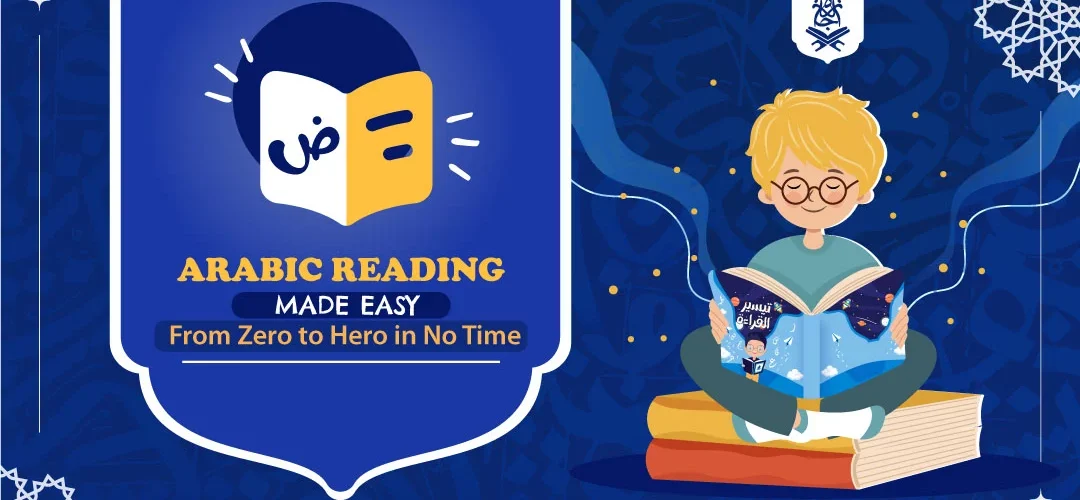 Arabic, with its rich history and cultural significance, has captured the fascination of language enthusiasts around the world. Whether you're interested in understanding the Quran, exploring classic literature, or simply broadening your linguistic horizons, learning to read Arabic is a rewarding endeavor.
While it might seem intimidating at first, with the right approach and resources, you can go from zero to hero in Arabic reading in no time. In this comprehensive guide, we'll break down the process step by step, providing you with the tools and strategies needed to navigate the world of Arabic script.
Unveiling the Arabic Script:
Arabic script is renowned for its elegant and distinctive appearance. It's written from right to left, and its characters change shape based on their position within a word. Understanding the basic structure of the script is crucial to building a solid foundation. Start by familiarizing yourself with the individual letters of the alphabet. Focus on both the isolated forms and how they connect to form words.
Mastering the Basics:
Before diving into more complex reading materials, it's essential to grasp the fundamental reading rules. Arabic vowels, known as "harakat," play a crucial role in indicating the pronunciation of words. Additionally, the "shadda" symbol denotes a doubled consonant sound, while the "sukun" symbol indicates the absence of a vowel sound. By internalizing these basic rules, you'll be better equipped to read Arabic text accurately.
Building Your Vocabulary:
As you progress, start building your Arabic vocabulary. Begin with common words and simple sentences. One effective strategy is to label objects in your environment with their Arabic names. This immersion technique helps reinforce your memory and association with the language. Gradually, expand your vocabulary to include more complex terms and phrases.
Utilizing Reading Resources:
In the digital age, a plethora of resources are available to aid your Arabic reading journey. Online language platforms, mobile apps, and interactive websites offer tutorials, exercises, and reading materials tailored to different levels of proficiency. Websites like Ijaazah Academy offer interactive lessons that gradually introduce you to the language's intricacies.
Reading Arabic Literature:
Engaging with authentic Arabic texts, such as literature, news articles, and blogs, is a pivotal step in advancing your reading skills. Start with simplified versions and gradually work your way up to more complex content. Classic tales from Arabian literature can be both entertaining and educational. Additionally, reading contemporary Arabic works exposes you to modern language usage.
The Power of Practice:
Consistent practice is the cornerstone of language mastery. Dedicate a portion of your daily routine to Arabic reading exercises. Set achievable goals, such as reading a certain number of pages or paragraphs each day. As you progress, challenge yourself with more intricate texts to keep expanding your skills.
Joining Language Communities:
Connecting with fellow learners and native speakers can greatly enhance your Arabic reading journey. Online forums, social media groups, and language exchange platforms provide opportunities to ask questions, share resources, and receive feedback. Engaging in discussions with native speakers exposes you to authentic language use and helps you refine your reading comprehension.
Seeking Guidance from Experts:
If you're serious about rapidly improving your Arabic reading skills, consider enrolling in language courses or hiring a tutor. Experienced instructors can offer personalized guidance, correct your mistakes, and provide structured lessons that cater to your specific learning style and pace.
Arabic Reading Made Easy: From Zero to Hero in No Time
Learning to read Arabic might appear daunting at first, but with dedication, perseverance, and the right approach, you can progress from a complete beginner to a proficient reader in a surprisingly short amount of time. Remember that consistency is key, and each step you take brings you closer to the realm of Arabic literature, culture, and communication. Whether your goal is to explore ancient manuscripts or connect with native speakers, embarking on this journey will undoubtedly enrich your linguistic repertoire and broaden your horizons. So, why wait? Dive into the enchanting world of Arabic reading and become a hero of the script in no time.