Arabic Calligraphy Online Course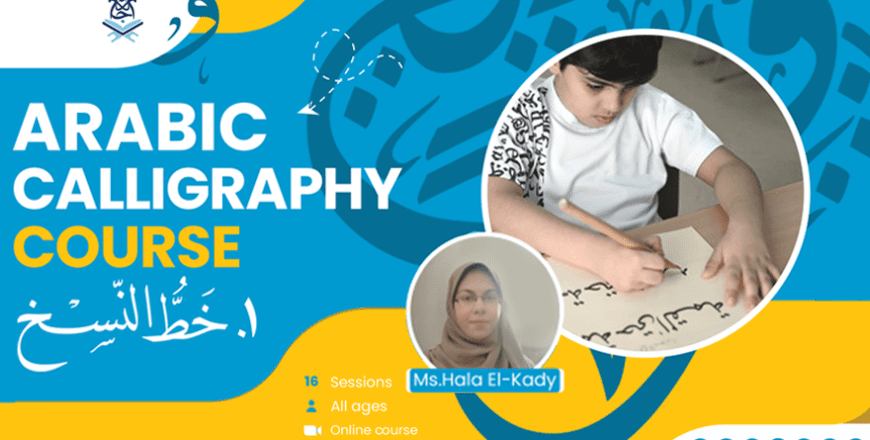 💫Do you want to teach your son the Arabic calligraphy used in writing the Noble Qur'an?
💫Do you dream that your son learns how to hold a pen and write with it?
💫Are you struggling with your son improving Arabic calligraphy and writing in beautiful handwriting?
✨Ijaazah.com offers you the first online calligraphy course
All you will need are :
pencil, Mobile Phone, and white paper!
Course duration :
16 days.
Arabic Calligraphy

 Class time : 
45 minutes
Group : 
7-10 students
Course fee:
30$ / Month.
✍️ Arabic Calligraphy Course Outline :
Definition of calligraphy in Arabic and its types.

How to hold a pen the right way.

Al-Mizan (scale-balance) of Arabic letters (point).

The shapes of all letters should be on the line, what goes below the line, and so on.

The length of each letter and its scale.

How to write letters together, two or three letters.

How to write words and sentences until perfection.
Introducing the trainer :
Ms. Hala El-kadi
Faculty of Engineering, Al-Azhar University.

Diploma in Arabic calligraphy for four years.
Has an Ijazah in Imam Asim's narration of (Hafs and his Shu'bah)
Has an Ijazah at Noorani Qaida, Tuhfat ul-Atfal.
Holds the international certificate in preparing non-Arabic speaking teachers within Al-Azhar University.
Five years of experience working in online teaching.
🏃‍♂️Hurry up to book. Places are limited!
Be the first to add a review.
Please,
login
to leave a review