Understanding the Significance of Shirk in Islam
October 19, 2023

Posted by:

Tasneem Ragab

Category:

Blog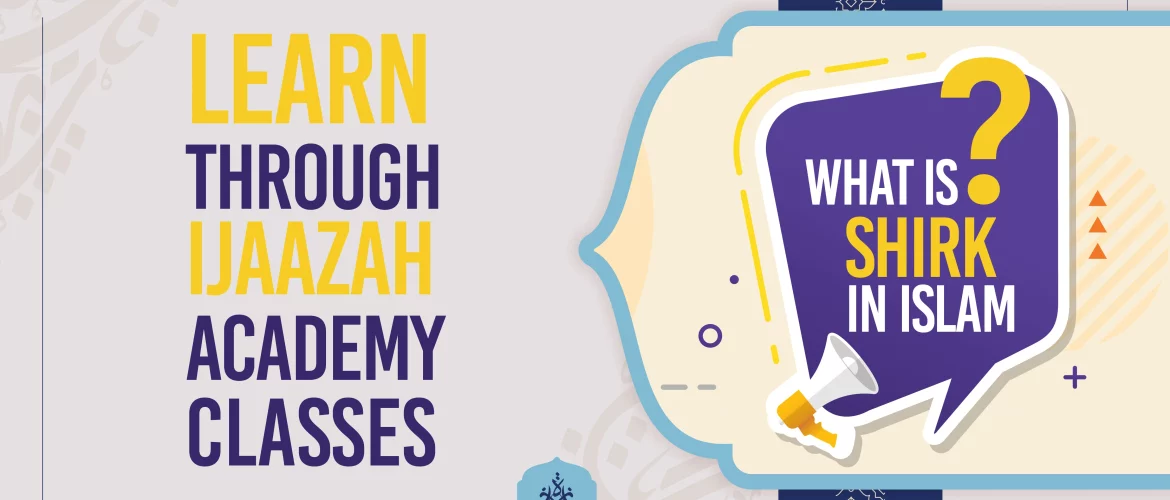 Understanding the Significance of Shirk in Islam
Shirk, a significant concept within Islam, pertains primarily to the act of associating partners with Allah Almighty. Consequently, it is regarded as a major transgression in the Islamic faith, strongly discouraged for Muslims. Shirk's magnitude as a sin lies in how it diminishes one's devotion to Allah Almighty when other entities are intertwined with His worship. The notion of polytheism is unequivocally forbidden in Islam, emphasizing the paramount belief in the oneness of Allah Almighty and the concept of monotheism.
How to gain insight into shirk through online Quranic learning?
Ijaazah Academy classes cater to learners of all ages, offering the opportunity to explore various aspects of the Holy Quran and the Islamic faith. Children, adults, and beginners alike can register for these classes, benefitting from the guidance of online Quranic teachers.
Does Allah forgive all sins?
Indeed, Allah Almighty forgives all transgressions, given sincere intentions and a commitment to abstain from repeating the wrongdoing.
Diverse forms of shirk can be comprehensively understood through online Quran classes. The Holy Quran introduces 'Tawhid' as the foremost tenet of Islamic articles. One's embrace of the concept of Tawhid is a prerequisite for entering the Islamic fold. Ijaazah Academy presents courses on Islamic studies, allowing individuals to delve into the subjects of Tawhid and Shirk under the tutelage of online Quranic instructors. Enrolling in online Ijazzah Academy is a straightforward process, requiring only internet access and headphones.
Regarding the essence of Allah Almighty, this concept hinges on unwavering belief in His eternal, singular lordship, encompassing the creation of all that exists within and beyond the universe. Belief in more than one Allah Almighty constitutes a grave form of shirk. 'Live Quran for Kids' designs specialized courses to instill awareness of Muslims' religious obligations towards Allah SWT.
Learning Shirk through Ijaazah Academy Classes
Shirk concerning the attributes of Allah Almighty centers on accepting His positive divine attributes. His essence is singular, not plural, and encompasses divine qualities like eternity, knowledge, and supreme power. The earliest instance of shirk in Islam can be traced back to the time of Noah, where Allah Almighty asserted the concept of Tawhid. Learning the Quran with Tajweed, necessary for accurate recitation, is facilitated through online resources.
Another form of shirk involves seeking something or assistance from sources other than Allah Almighty. However, it is essential to acknowledge Allah SWT's omnipotence and sole authority over all actions. Online Quranic instructors employ contemporary teaching methods, simplifying Quranic recitation for children and beginners. Is Christianity considered shirk? Christians are recognized as 'People of the Book,' yet their belief in Allah Almighty having Jesus as His son is categorized as a significant form of shirk.
Understanding Allah's Essence
Minor shirk, though lighter in gravity compared to major forms, can potentially lead to major transgressions through actions or words. It is imperative to exercise caution and refrain from such behaviors. The glorious Quran and hadiths provide guidance on the concept of shirk, facilitating understanding through Ijaazah Academy online classes.
Shirk in Regard to Divine Attributes
Engaging in ostentatious worship to garner attention, subscribing to superstitious beliefs while neglecting belief in Allah SWT, seeking assistance from entities other than Allah SWT, and offering vows to other than Allah Almighty are all manifestations of shirk. Moreover, Islam encompasses not only religious duties and knowledge but also a comprehensive approach to various aspects of human life, knowledge that can be acquired through a deep understanding of the Holy Quran.
Therefore, learning the Quran online offers a gateway to a profound comprehension of the Quran and the multifaceted concepts within the Islamic faith.