Virtues of Praying (Salah) | Ijaazah Academy
October 16, 2023

Posted by:

Tasneem Ragab

Category:

Blog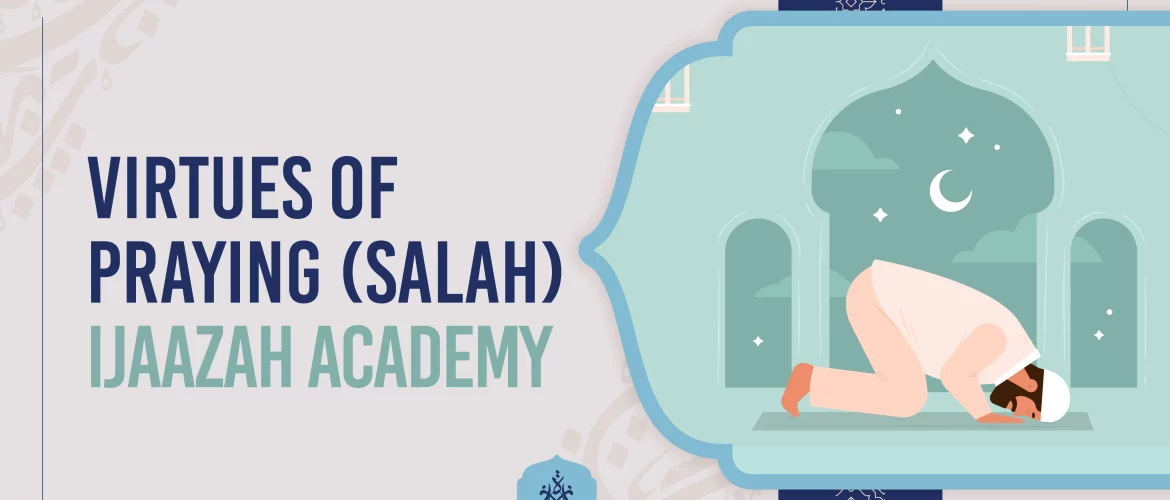 Recognizing the pivotal role of prayer (Salah) within the Islamic faith, it stands as the second pillar of Islam, underscoring its essential nature. Timely observance of Salah is associated with profound rewards. Live Quran for Kids extends a unique opportunity through online Quran classes for both children and adults to delve into the practice of offering Namaz (prayers). In essence, it is evident that two pivotal components of a complete faith are prayers and contemplation. The term 'Salah' or 'praying' is the designated expression for Islamic worship and devotion to Allah Almighty.
Advantages of Practicing the Five Daily Prayers Engaging in the ritual of prayer five times each day holds numerous benefits. Moreover, it is obligatory for all Muslims to perform these prayers punctually. The opportunity to learn this fundamental pillar and duty of the Islamic faith is facilitated through online Quran education. Online Quran teachers play a vital role in imparting the knowledge of Namaz through virtual classes designed for both children and adults.
Praying five times daily leads to the elevation and expiation of sins in the eyes of Allah Almighty.
These five daily prayers serve as a means of atonement for major transgressions. Sins can corrode an individual's soul, making regular prayer the most effective remedy. Regular prayer and acts of charity hold significance on the Day of Judgment, elevating one's status to that of a martyr. Those who perform the five daily prayers will be among the first to enter paradise, surpassing even their martyr brethren. Salah (prayer) serves as a source of enlightenment in this world and the afterlife. Abundant prayer can lead to companionship with Prophet Muhammad (Peace Be Upon Him) in paradise.
Benefits of Sending Blessings (Salawat) Initiating the practice of Salah
Benefits of Sending Blessings (Salawat) Initiating the practice of Salah involves observing specific etiquettes and procedures. Online Quran teachers guide individuals in mastering the Virtues of Praying through Quran classes tailored for beginners and children. Additionally, short surahs from the Quran, which are recited during prayer, can be memorized with their assistance. Live Quran for Kids also offers programs for Quran memorization.
Salah has the power to unravel the knots placed by Satan upon one's head
Nighttime prayers, especially after obligatory prayers, are ideal for seeking the blessings of Allah Almighty. Offering prayers at night, unbeknownst to most, yields rewards of a unique nature. The prayer most beloved by Allah Almighty is the one offered in the third part of the night, after two-thirds of it has been spent in sleep. Obligatory nighttime prayer serves as an ideal way to express gratitude to Allah, a practice that can be learned with the guidance of an online Quran teacher.
Virtues of Nighttime Prayers Three Potent Forms of Prayer Three potent prayers encompass those for protection, transformation, and restoration. Live Quran for Kids offers affordable Ijaazah Academy classes for both children and adults, providing the choice of male or female Ijaazah Academy teachers.
Nighttime prayers are an effective means to enhance one's Taqwa (piety) and seek forgiveness and blessings from Allah Almighty. Husbands and wives are encouraged to perform nighttime prayers together and support each other in this spiritual endeavor. By offering just two Rakats (units of prayer) at night, one can earn Allah Almighty's blessings and recognition. Ijazzah Academy teachers can also impart knowledge of various prayers beyond obligatory Salah. Furthermore, there exists no rivalry between individuals, except for those who engage in night prayers and recite the Holy Quran verses for the sake of Allah Almighty. The recitation of the Holy Quran with Tajweed is also facilitated through online Quran classes for both children and adults.