Fluent Arabic Awaits: Ijaazah Academy's Course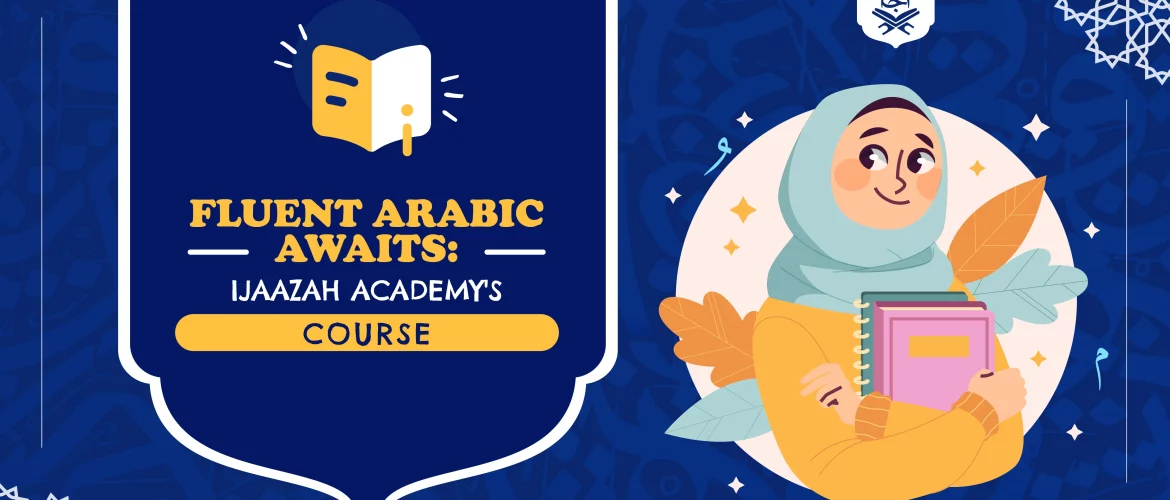 In our increasingly interconnected world, the ability to communicate in multiple languages is a valuable skill that opens up countless opportunities for personal and professional growth. Among the plethora of languages spoken across the globe, Arabic course stands out as a language of rich history, culture, and significance. Whether you're interested in traveling to the Middle East, exploring the treasures of Arabic literature, or simply expanding your linguistic horizons, mastering Arabic is a rewarding endeavor. Ijaazah Academy's Arabic language course offers a comprehensive and immersive experience that will help you achieve fluency and unlock the secrets of this beautiful language.
Unlocking the Beauty of Arabic
Arabic is a language that has captivated the world for centuries with its elegant script and profound literary heritage. It is not only the language of the Quran but also the key to understanding a vast and diverse culture that spans across the Middle East and North Africa. Learning Arabic opens doors to a treasure trove of knowledge, from classical poetry to modern politics, and the Ijaazah Academy is your gateway to this fascinating linguistic journey.
Course Overview
Ijaazah Academy's Arabic language course is designed to cater to learners of all levels, from complete beginners to advanced students seeking to refine their skills. Here's an overview of what you can expect from this exceptional course:
Comprehensive Curriculum:
The course covers all aspects of Arabic language learning, including reading, writing, listening, and speaking. You will start with the fundamentals of the Arabic alphabet and gradually progress to more advanced grammar and vocabulary.
Experienced Instructors:
The Academy boasts a team of highly qualified and experienced Arabic language instructors who are passionate about teaching and committed to your success. They will guide you through the intricacies of the language, providing personalized feedback and support.
Immersive Learning Environment:
To truly master a language, immersion is key. Ijaazah Academy offers an immersive learning environment where you'll be surrounded by Arabic in all aspects of your studies. This approach accelerates your language acquisition and builds your confidence.
Cultural Enrichment:
Beyond language skills, the course introduces you to the rich tapestry of Arabic culture. You'll gain insights into Arab traditions, customs, and history, making your language journey a holistic experience.
Flexibility: The course is designed to accommodate your schedule. Whether you prefer intensive full-time learning or part-time lessons, Ijaazah Academy offers flexibility to fit your lifestyle.
Benefits of Learning Arabic with Ijaazah Academy
Career Opportunities:
In an increasingly globalized world, Arabic proficiency is a valuable asset for careers in diplomacy, international relations, journalism, and more. Learning Arabic with Ijaazah Academy opens doors to exciting job prospects.
Cultural Appreciation:
Understanding the Arabic language allows you to engage more deeply with Arabic. You'll develop a greater appreciation for the beauty and diversity of Arab culture.
Religious Understanding:
For those interested in Islamic studies, Arabic is essential for interpreting the Quran and understanding Islamic texts. Ijaazah Academy's course provides the foundation for religious scholars and students.
Travel Experiences:
Traveling to Arabic-speaking countries becomes more enjoyable when you can communicate with locals in their own language. Your Arabic skills will enhance your travel experiences and enable meaningful interactions.
Personal Growth:
Learning a new language is not just about communication; it's also a mental exercise that enhances cognitive abilities, problem-solving skills, and memory. It's an investment in your personal growth.
Fluent Arabic Awaits: Ijaazah Academy's Course
In a world where language skills are prized, Ijaazah Academy's Arabic language course stands out as a beacon of excellence. Whether you aspire to deepen your cultural understanding, advance your career, or simply embark on a fulfilling linguistic journey, this course offers a path to fluency that is both comprehensive and enriching. Unlock the beauty of Arabic, explore its cultural riches, and broaden your horizons with Ijaazah Academy's course. Fluent Arabic awaits you, and the adventure begins here. Enroll today and discover the world through a new linguistic lens.