Elevate Your Quranic Proficiency with 'Test Me Service' | Ijaazah Academy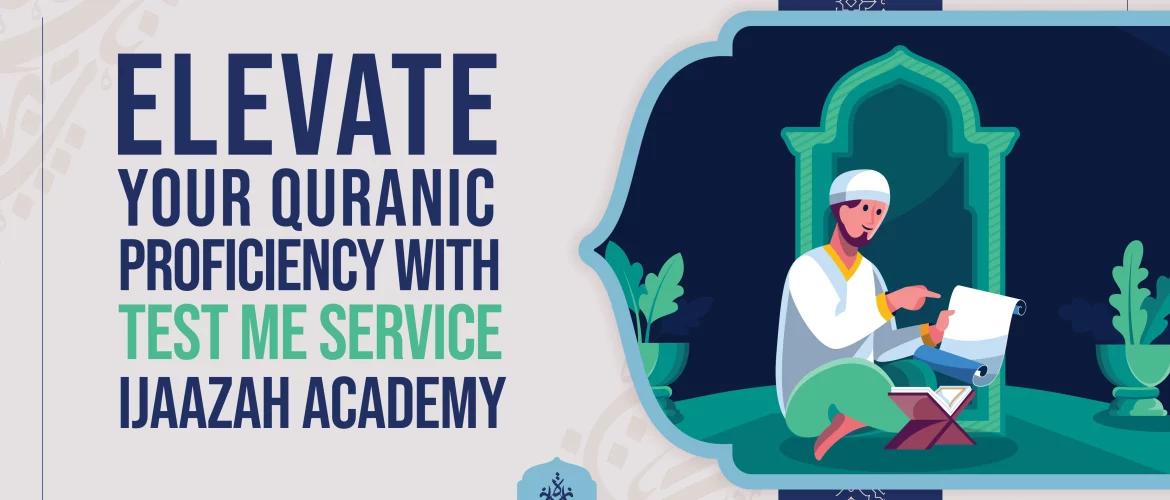 Embark on a transformative Quranic journey with the "Test Me" service offered by Ijaazah Academy. If you're seeking a precise evaluation of your Quranic abilities and aspire to attain a certification for your memorization or recitation proficiency, look no further—Test Me is your ideal companion in this sacred endeavor.
Discover Your True Potential:
Are you ready to unlock the full spectrum of your Quranic knowledge? The "Test Me" service at Ijaazah Academy is designed to provide a meticulous assessment of your memorization and recitation skills, offering you a certification that reflects your true potential. Take the plunge and register now to embark on this enlightening Quranic journey.
How "Test Me | قيمني" Works:
Book Your Assessment with a Nominal Fee: Begin your Quranic journey by booking your assessment. The nominal fee ensures a commitment to your growth and proficiency.
Join a Meeting with Our Certified Quran Tutor: Engage with our certified Quran tutor in a personalized meeting. Benefit from their expertise as they guide you through the evaluation process with insights tailored to your individual progress.
Get Your Detailed Feedback: Receive a comprehensive feedback report that delves into your strengths and highlights areas for improvement. This detailed feedback is your roadmap to refining your memorization and recitation skills.
Unleash Your Quranic Potential:
Ready to take the first step towards Quranic excellence? Don't hesitate—register now for the "Test Me" service at Ijaazah Academy. Elevate your proficiency through a personalized assessment, expert guidance from certified Quran tutors, and detailed feedback that paves the way for your continuous improvement.
Don't miss out on the opportunity to discover your true potential in Quranic knowledge. Let 'Test Me | قيمني' be your trusted companion on this rewarding journey. Register today and embrace the path to Quranic mastery!