Unleashing the Power of Arabic Reading: Zero to Hero Journey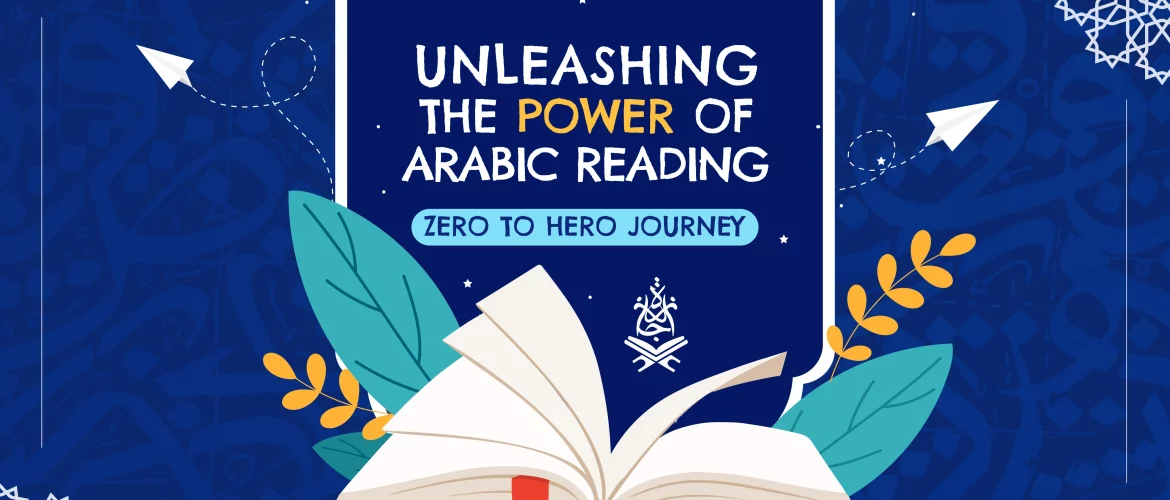 Arabic, a language of profound historical significance and cultural richness, holds a special place in the hearts of millions around the world. From the eloquent verses of the Quran to the intricate calligraphy adorning architectural wonders, Arabic is a testament to the beauty of language and human expression.
Embarking on a journey to master Arabic reading might seem like a daunting task, but with the right approach and dedication, anyone can transform from a novice to a proficient reader. In this blog post, we will delve into the steps of this transformative "Zero to Hero" journey in unleashing the power of Arabic reading.
Step 1: Embracing the Basics
Every journey begins with a single step, and the journey of Arabic reading is no different. Starting with the Arabic alphabet might feel overwhelming, but understanding the 28 letters and their various forms is the foundation of your progress. Begin with learning the shapes and sounds of individual letters, practicing their pronunciation until you're comfortable with their distinct sounds and connected forms.
Step 2: Building Your Vocabulary – Arabic Reading
As you become more comfortable with the Arabic alphabet, start building your vocabulary. Choose common words and phrases that are relevant to your interests and daily life. Utilize flashcards, language learning apps, and reading materials to gradually expand your word bank. Remember, consistency is key; a little practice each day goes a long way.
Step 3: Grasping Grammar and Syntax
Arabic grammar may seem complex, but it's an essential component of becoming a proficient reader. Learning sentence structure, verb conjugation, and noun-adjective agreements will significantly enhance your understanding of written Arabic. Invest time in studying grammar rules, and seek out resources like textbooks and online tutorials to guide you.
Step 4: Diving into Reading Materials
Now that you've built a solid foundation in the basics, it's time to dive into actual reading materials. Start with simple texts such as children's stories, news articles, or online blogs. Focus on comprehension rather than speed, gradually increasing the complexity of the texts as you become more confident. Reading aloud can help improve your pronunciation and fluency.
Step 5: Language Exchange and Conversation
To truly master a language, you need to engage in real-life conversations. Join language exchange groups or find native Arabic speakers to converse with. Engaging in conversations will expose you to colloquialisms, cultural nuances, and the rhythm of spoken Arabic. This step is crucial for transitioning from a reader to a holistic language user.
Step 6: Immersing in Arabic Media
Immersing yourself in Arabic media is a dynamic way to enhance your reading skills. Watch Arabic movies, TV shows, listen to podcasts, and follow social media accounts that use the language. Over time, your brain will adapt to the sounds and cadences of Arabic, further improving your reading comprehension and listening skills.
Step 7: Embracing Challenges
Challenges are inherent in any learning journey, but they are where growth happens. Don't be discouraged by difficult texts or moments of confusion. Embrace them as opportunities to expand your knowledge and refine your skills. Keep a journal to track your progress and reflect on your achievements.
Step 8: Cultural Exploration
Language and culture are deeply intertwined. As you progress in your Arabic reading journey, take time to explore the rich cultural heritage of Arabic-speaking countries. Learn about traditions, cuisine, history, and art. This will not only enrich your understanding of the language but also provide a broader perspective on the world.
Step 9: Seeking Advanced Learning
Becoming a hero in Arabic reading doesn't mean the journey ends. As you reach advanced levels, consider formal language classes or even studying abroad in an Arabic-speaking country. Engaging with advanced texts and literature will challenge and inspire you to reach new heights of linguistic proficiency.
Unleashing the Power of Arabic Reading: Zero to Hero Journey | Conclusion
The journey from being a beginner to a proficient Arabic reader is both challenging and rewarding. By embracing the basics, building your vocabulary, mastering grammar, and immersing yourself in Arabic media and conversations, you can transition from zero to hero in the world of Arabic reading.
Remember that consistency, patience, and a passion for the language will be your greatest allies. As you embark on this transformative journey, you'll not only unlock the power of Arabic reading but also gain a deeper appreciation for the beauty and complexity of language and culture.