Step-wise Guide for Dua via Ijaazah Classes for Kids
October 28, 2023

Posted by:

Tasneem Ragab

Category:

Blog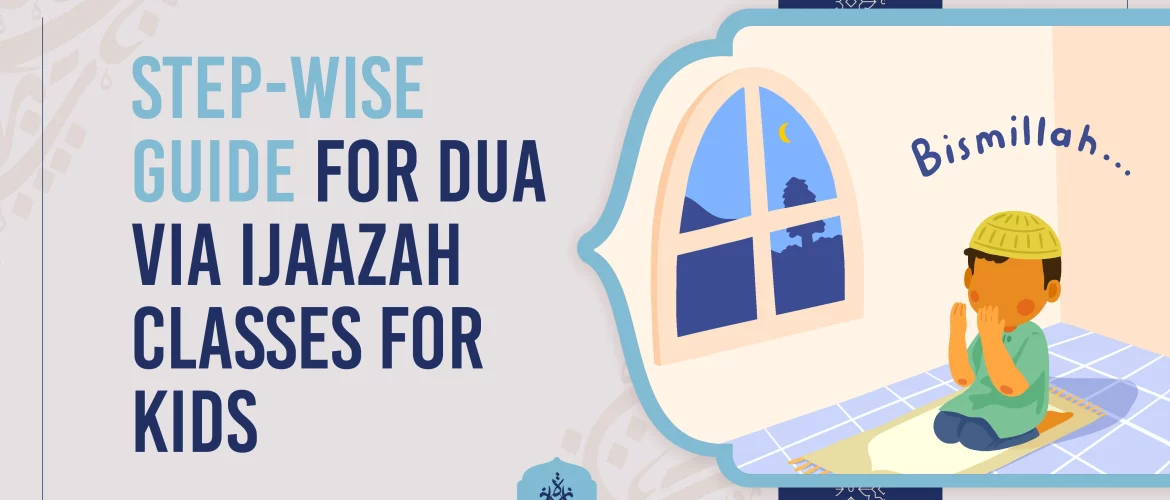 In today's fast-paced world, it can be challenging to find ways to connect with our faith and instill Islamic values in our children. This is where Ijaazah Academy steps in, offering a unique and optimized approach to teach kids the art of Dua. Dua, or supplication, is an essential aspect of Islamic worship, and imparting this knowledge to our children is a precious gift that will stay with them for a lifetime. In this blog post, we'll take you through a step-wise guide on how Ijaazah Academy can help your kids learn and connect with Dua in a meaningful way.
Step 1: Choosing Ijaazah Academy
The journey to teaching your kids the art of Dua begins with selecting the right educational platform. Ijaazah Academy stands out as a leading institution, offering a comprehensive program designed specifically for children. With a team of qualified instructors and a structured curriculum, you can trust Ijaazah Academy to provide your child with a solid foundation in Dua.
Step 2: Age-Appropriate Learning
One of the key advantages of Ijaazah Academy is that it tailors its classes to different age groups. They understand that children have varying cognitive abilities and attention spans, and as a result, their courses are age-appropriate. This ensures that the learning experience is engaging, enjoyable, and effective.
Step 3: Interactive Classes
Ijaazah Academy's Dua classes are not your typical lectures. They incorporate interactive methods to keep kids engaged and interested. Through storytelling, games, and multimedia, children learn about the significance of Dua in a way that is both entertaining and educational.
Step 4: Building a Strong Foundation
Dua is not just about reciting words; it's about understanding the meaning and purpose behind them. Ijaazah Academy emphasizes building a strong foundation in the fundamentals of Dua. This includes teaching children the etiquettes of supplication, when to make Dua, and the power of sincerity.
Step 5: Practical Application
Learning Dua is not just an academic exercise; it's a practical skill that children can use in their everyday lives. Ijaazah Academy encourages students to apply what they've learned by making Dua a part of their daily routine. This practical application ensures that the knowledge they gain is not just theoretical but a living, breathing part of their faith.
Step 6: Progress Tracking
Ijaazah Academy understands that each child progresses at their own pace. Therefore, they provide regular feedback and progress tracking to help parents understand their child's development in Dua. This transparency ensures that you are always aware of your child's growth in this vital aspect of their faith.
Step 7: A Supportive Community
The journey of learning Dua is made more enjoyable and effective through the support of a like-minded community. Ijaazah Academy fosters an environment where children can connect with peers who share the same values and goals. This sense of belonging and camaraderie is invaluable in nurturing a love for Dua.
Step 8: Parental Involvement
Ijaazah Academy acknowledges that parents are a child's first teachers. They encourage parents to be actively involved in their child's learning journey. With resources and guidance provided by the academy, parents can reinforce the lessons learned at home, creating a harmonious learning experience for the child.
Step 9: Graduation and Certification
Upon completing the Dua program, children receive a graduation certificate from Ijaazah Academy. This recognition not only boosts their confidence but also serves as a testament to their achievement in the art of Dua.
Step 10: Lifelong Connection
The relationship with Ijaazah Academy doesn't end at graduation. They maintain a lifelong connection with their students, offering advanced courses, seminars, and workshops to help children continue to deepen their understanding of Dua as they grow.
Step-wise Guide for Dua via Ijaazah Classes for Kids
Teaching children the art of Dua is a priceless gift that can shape their spiritual journey and life. Ijaazah Academy offers a step-wise guide to make this process accessible, enjoyable, and effective. Choosing Ijaazah Academy, with its age-appropriate learning, interactive classes, strong foundation building, practical application, progress tracking, supportive community, and parental involvement, ensures that your child is well-equipped with the knowledge and skills to connect with their faith through Dua. By enrolling your child in Ijaazah Academy, you are providing them with a solid foundation in Dua that will stay with them for a lifetime.