Sheikh Ahmed Muhammad Shaker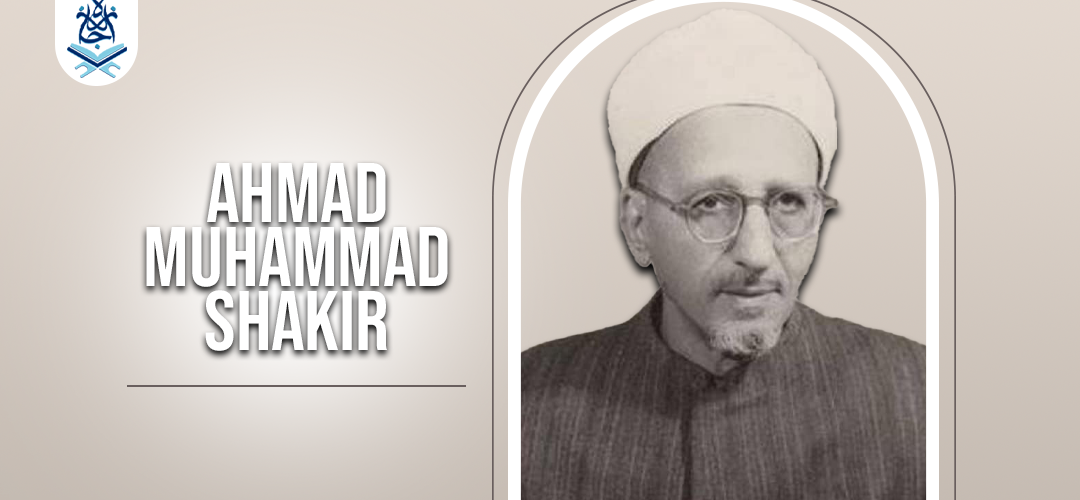 Sheikh Ahmed Muhammad Shaker was one of the brilliant scholars of Al-Azhar who emerged at the beginning of the fourteenth century, AH, and he belongs to the family of "Abi Alia" in Jirga from Upper Egypt, which is an honorable family, whose lineage ends with Imam Hussein bin Ali bin Abi Talib. He received his education in Al-Azhar, He contacted his senior scholars, and was apprenticed to them.
After Sheikh Ahmed Muhammad Shaker graduated, he worked as Secretary of Fatwas at Al-Azhar, then worked in the judiciary, then was chosen for the position of Chief Judge in Sudan on (10 Dhul Qi'dah 1317 AH = 11 March 1900 AD), so he is considered the first person to hold this position in Sudan, and he established the systems of the Sharia judiciary, then he was appointed in the year (1332 AH = 1905 CE) as a sheik of the scholars of Alexandria and a sheik of its religious institute, then he was chosen as an agent for the sheikhdom of the Al-Azhar Mosque on (9 Rabi' al-Akhar 1327 AH = 29 April 1909 CE), and he was one of the advocates of reform in Al-Azhar and the development of its curricula and systems, then he resigned from the agency after he was chosen as a member In the Legislative Assembly for the year (1331 AH = 1913 AD), he devoted himself to public work, giving his opinion on public issues and writing in newspapers, and he was one of the leaders of Al-Azhar in the 1919 AD revolution.
Sheik gave birth to many sons, two of whom excelled. One of them, is the scholar and scholar of hadith Ahmad Muhammad Shaker, and he attained the leadership of hadith in Egypt. As for the other, he is the great writer Mahmoud Muhammad Shakir, the author of Falsehoods and Asmar, the Virgin Bow, Al-Mutanabbi, and others.
Sheikh Ahmed Muhammad Shaker Birth
Ahmad Muhammad Shakir (January 29, 1892, Cairo – June 14, 1958) was an Egyptian Islamic researcher of hadith. He is the child of Muḥammad Shākir ibn Aḥmad, an Islamic researcher of Al-Azhar College and senior brother of Mahmud Muhammad Shakir, an author, and writer. As an editor, Shākir's Cairo distribution, from 1937 in 5 volumes, gave the standard topical classification of the hadith Arabic content for Sunan at-Tirmidhi. The work was subject to numerous reprints.
Positions Held
He graduated from and worked at Al-Azhar College and resigned in 1951. Among the positions that he held was that of vice-chairman of the Preeminent Shariah Court in Cairo.
Return to Cairo
Ahmed Shaker moved to Cairo in the year (1327 AH = 1909 AD) after his father was appointed as an agent for the sheikhdom of the Al-Azhar Mosque.
In Cairo, the horizons of reading, learning, contacting, and meeting with scholars widened before him, whether they were scholars of Al-Azhar or frequented Cairo, and he hardly heard of a scholar who came to Cairo until He contacted him, so he frequented the scholar Abdullah bin Idris Al-Senussi, the Muhaddith of Morocco, and read to him, so he authorized him to narrate the six books, and contacted Sheikh Muhammad Al-Amin Al-Shanqeeti, Ahmed bin Al-Shams Al-Shanqeeti, Shaker Al-Iraqi, Taher Al-Jazaery, Muhammad Rashid Reda, and Sheikh Salim Al-Bishri, Sheikh of Al-Azhar Mosque, All of them were permitted by their narratives in the Sunnah of the Prophet.
Sheikh Ahmed Muhammad Shaker efforts
Ahmed Shaker's work and scientific efforts revolve around two main axes: reviving the Arab heritage and publishing it accurately, and writing research and scientific theses.
The first aspect was accounted for by the efforts of Sheikh Ahmed Muhammad Shaker, and the emptying of his mighty energy in work and research, and the investigation of the book Al-Risalah of Imam Al-Shafi'i was the first book that he published among the people, and it was an investigation of it unlike what people used to stand on from the investigations of the Orientalists, and his work came as a model for the art of heritage investigation. He relied on an old original in the handwriting of Al-Rabee bin Suleiman, a student of Al-Shafi'i, who wrote it in the life of his imam, and put an additional introduction to the book that amounted to 100 pages.
You may like: WHY SHOULD YOU RECITE QURAN DAILY?
Sheikh Ahmed Muhammad Shaker Works
al-Ba'ith al-Hadith: his explanation of Ibn Kathir's Ikhtisaar 'Uloom al-Hadith, an abridgement of the Muqaddimah in hadith terminology
Sunan al-Tirmidhi: his footnotes to about the first third of this hadith collection
'Umdah al-Tafsir: abridgement of Tafsir ibn Kathir; incomplete
Jaami' al-Bayyaan, commonly referred to as Tafsir al-Tabari: footnotes to Muhammad ibn Jarir al-Tabari's explanation of the Quran; incomplete
Musnad Ahmad ibn Hanbal: his footnotes to approximately the first third of Ahmad ibn Hanbal's large collection of hadith
al-Muhalla: footnotes to the fiqh book of ibn Hazm
al-'Aqidah al-Tahaawiyyah: editing and footnotes to the famous book of Sunni creed by Ahmad ibn Muhammad al-Tahawi
Sheikh Ahmed Muhammad Shaker death
Sheik reached the knowledge of the hadith of the Messenger of Allah (may Allah bless him and grant him peace) in a narration and know-how that only the most distinguished of the hadith scholars of his time could reach. Whether it was his authorship or his verification of 34 works, and his works varied, including Sunnah, jurisprudence, principles, interpretation, monotheism, and language. And the Sheikh continued to work in an eagerness that does not know boredom in completing what he started of work, but his death was urgent, so he met his Lord on (26 Dhul Qi'dah 1377 AH = June 14 1958 AD).
You may want reading: MALCOM X
Subscribe and join our Arabic Course!