Ijaazah Academy | Importance of the Hijab or Veil in Islam
November 5, 2023

Posted by:

Tasneem Ragab

Category:

Blog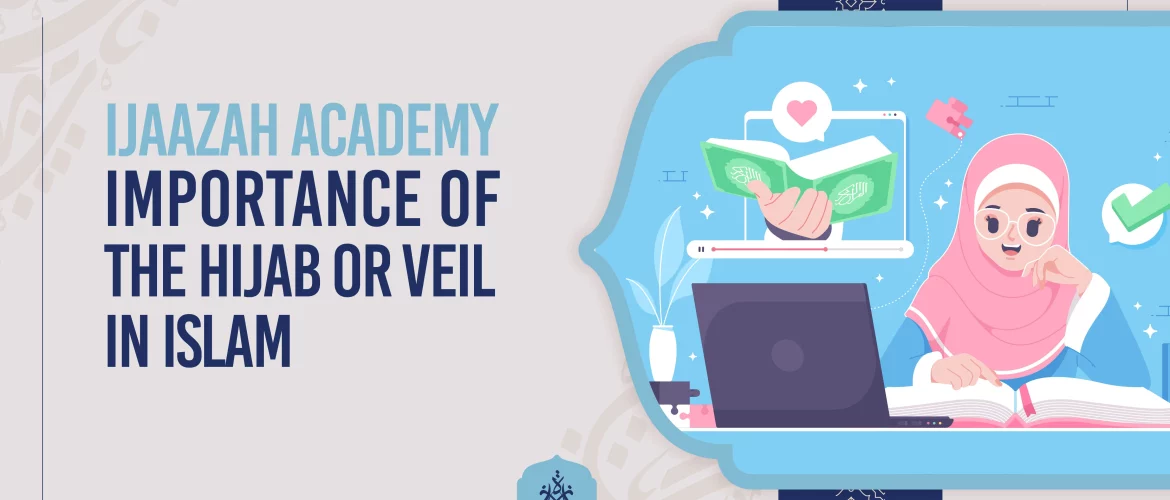 In today's fast-paced world filled with challenges, confusion, and corruption, the Holy Quran serves as a timeless guide offering solutions to life's myriad problems. As believers seek solace, the Quran stands as the ultimate source of comfort, with a verse urging hearts to find peace through the remembrance of Allah. Amidst the chaos, Ijaazah Academy presents an opportunity to delve into the Quranic teachings, particularly focusing on the significance of Hijab or Veil in Islam.
Understanding Hijab:
Derived from the Arabic word "Hajaba," meaning "to hide" or "to conceal," Hijab has evolved into a symbol of modesty and religious identity for Muslim women. The Quranic verses emphasize the importance of lowering one's gaze and guarding modesty, guiding Muslim women to cover themselves as a representation of piety.
Quranic Guidance on Veiling:
Addressing the question of whether the Quran mandates wearing a veil, the Quranic verses instruct Muslim women to restrain their eyes, guard their private parts, and cover their beauty. Surah 24, Ayah 32 explicitly states the need for women to cover their heads and bosoms, refraining from displaying embellishments.
The Purpose of Hijab:
Muslim women wear the hijab not as an act of suppression but as a divine command from Allah to protect themselves and honor their identity. The veil serves as a shield against the inappropriate gazes of men, preserving the sanctity of women in society.
Ijaazah Academy opens the doors to Quranic wisdom for individuals worldwide, transcending geographical boundaries. Learning from an online Quran teacher is just a click away, making it easily accessible from any corner of the globe.
With the flexibility to choose class timings according to personal convenience, Ijaazah Academy ensures that learning the Quran fits seamlessly into the busy schedules of individuals. Whether for kids or adults, online Quran classes can be attended at one's preferred time.
Curious about the teaching approach? Ijaazah Academy offers a free trial for online Quran classes, allowing learners to experience firsthand the quality of education provided by their certified online Quran teachers.
Highly Qualified Online Quran Teachers:
Ijaazah Academy prides itself on a team of highly qualified and experienced online Quran teachers. Learning becomes a professional and enriching experience under their guidance.
Quranic & Islamic Courses:
Beyond Quranic teachings, Ijaazah Academy offers customized courses covering various aspects of Islamic studies. From articles of belief to social and cultural values, learners can explore the foundations of Islam, including the significance of Hijab for women.
Ijaazah Academy | Importance of the Hijab or Veil in Islam
In the quest for guidance and solutions, the Holy Quran remains an invaluable source. Ijaazah Academy, with its online Quran classes and experienced teachers, invites learners to embark on a journey of spiritual growth, understanding, and enlightenment. Join the academy to unlock the essence of Hijab in Islam and discover the profound teachings of the Quran.