How Quran Classes Can Strengthen Your Family's Bond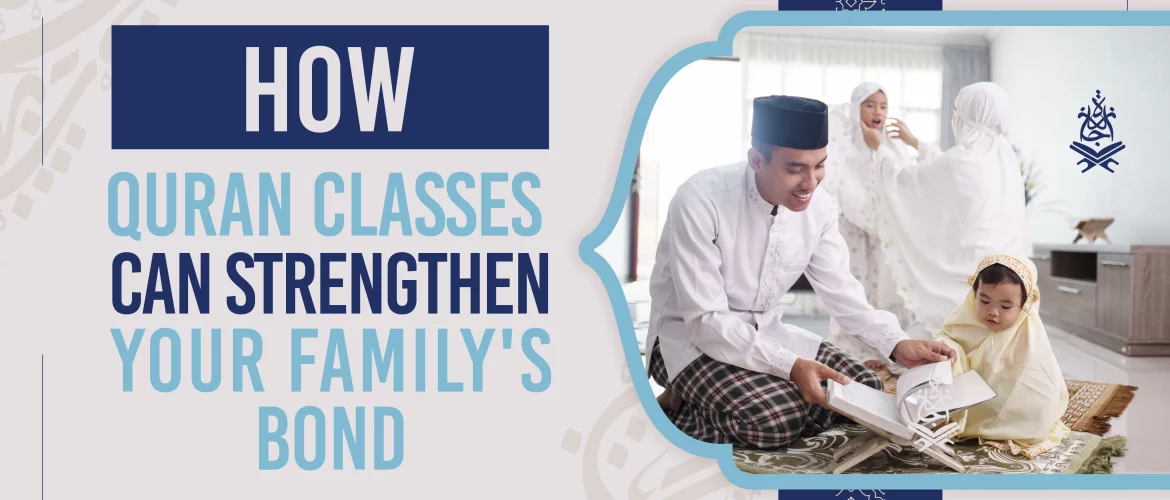 Strengthening Your Family's Bond: The Power of Quran Classes | In today's fast-paced and ever-changing world, it is becoming increasingly challenging for Muslim families to maintain a strong bond and preserve their religious values. As Muslim parents living in America or Canada, it is essential to find ways to foster a deep connection with our faith and instill its teachings in our children. One powerful avenue for achieving this is through Quran classes.
Quran classes not only offer an opportunity to learn the divine words of Allah but also serve as a catalyst for strengthening the familial bond. In this blog post, we will explore how Quran classes can play a pivotal role in bringing your family closer together, fostering spiritual growth, and instilling lasting values in your children.
1. Quran Classes as a Source of Unity
In a multicultural and diverse society like America and Canada, Quran classes can serve as a unifying force for Muslim families. By engaging in Quranic studies together, parents and children can develop a shared sense of purpose and identity. The Quran's teachings emphasize the importance of family, and studying it as a family can reinforce these values. Gathering around the Quran not only allows for a spiritual connection but also creates an environment of love, support, and understanding.
2. Learning and Reflecting on the Quran as a Family
Attending Ijaazah Quran classes as a family provides a unique opportunity for collective learning and reflection. As parents, it is crucial to involve ourselves actively in our children's education. By joining them in Quran classes, we not only demonstrate the significance of the Quran but also actively participate in their spiritual development. Encouraging open discussions about the verses studied during class allows for deeper reflection and understanding, fostering a sense of mutual growth.
3. Strengthening Parent-Child Relationships
Ijaazah Quran classes can be a transformative experience for parent-child relationships. The act of learning together strengthens the bond between parents and children, as it creates shared experiences and shared goals. Through Quran classes, parents can become role models, guiding their children on the path of righteousness. This joint pursuit of knowledge establishes a strong foundation for open communication, trust, and respect within the family unit.
4. Building Moral and Ethical Values
The Quran serves as a comprehensive guide for leading a righteous life, and its teachings can shape the moral compass of your family. Quran classes expose children to ethical principles, values, and stories that promote compassion, empathy, and justice. By imparting these values within the context of family, the lessons become more relatable and applicable in their daily lives. The Quranic teachings also emphasize the importance of upholding family ties, kindness towards others, and caring for the less fortunate, thereby nurturing a sense of social responsibility.
5. Developing a Love for the Arabic Language
Quran classes not only teach the understanding and memorization of the Quran but also introduce children to the beauty of the Arabic language. Learning Arabic fosters a deeper connection with the Quran, as it enables the reader to comprehend the original text and appreciate its linguistic nuances. Studying Arabic as a family can be an exciting journey that allows everyone to explore the richness of the language, enhancing their understanding and appreciation of the Quran.
6. Strengthening Faith and Personal Connection with Allah
A family that engages in Quran classes together fosters a sense of devotion and love for Allah. The verses of the Quran have a profound impact on the hearts and minds of believers, and studying them as a family helps strengthen faith and deepen personal connections with Allah. Through regular recitation, reflection, and application of the Quran's teachings, family members can experience spiritual growth collectively, creating an atmosphere of piety and devotion within the household.
Conclusion
In a world that often pulls families apart, Quran classes have the power to bring Muslim families together, strengthening the bond and instilling