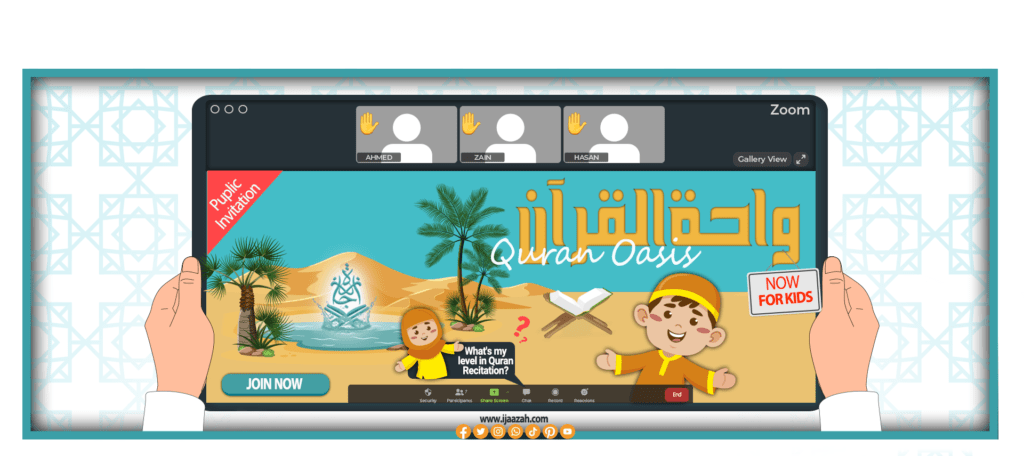 💫 A pleasant surprise 💫⭐
Ijaazah.com with your kids during the summer vacation
🌟Do you dream that your kid's heart attaches to the Qur'an❓
🌟Do you aspire for your kid to understand what he reads from the Qur'an and understand its meanings in a simplified manner ❓
🌟Do you want to see the effect of the Qur'an on the morals and behavior of your son and duaghter❓
Ijaazah presents "Quran Oasis for Children" program
The idea of the program stems from the principle of "learning faith before the Qur'an" which was adopted by the Prophet (ﷺ), in teaching young children, as in this Hadeeth:
It was narrated that Jundub bin 'Abdullah said: "We were with the Prophet (ﷺ), and we were strong youths, so we learned faith before we learned Qur'an. Then we learned Qur'an and our faith increased thereby."
Joining Terms
1️⃣ Register in the form sent in your WhatsApp group.
2️⃣ The student must be not more than 14 years old and not less than 7 years old.
3️⃣ Punctuality in attendance and homework.
4️⃣ Not to be absent unless absolutely necessary.
Program duration: 8 lessons per month
Class duration: 30 minutes
Join us in Quran Oasis for Children.
📝 For registering fill in the below form
To Inquire or Register in Quran Oasis for Children